Easiest Ways to Home School Your Kids Amid Corona Virus Outbreak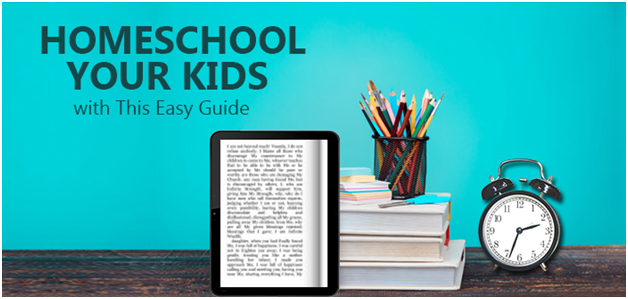 The schools are being shut and kids being asked to stay home. With the outbreak of the COVID19 pandemic, things are being really difficult for the students. As the companies are forced to get the employees to work from home, things are getting a little tough. Along with being a workaholic, you need to play the new role of being a teacher.
Yes, taking care of the kids is being tough, and keeping them engaged in their studies is tougher. You're surely struggling with this homeschooling thing. Well, no worries. The e-learning development experts have listed here, some interesting ways to keep your child engaged and learn what they are missing out on.
So dear parents, take a sigh of relief and move ahead to let your child feel at school in the comforts of home.
Expert's Guide to Home School Your Kids Amid Corona virus Outbreak
With you being busy with your office work, making time for your kid to keep them engaged is a little tough. We have shared here some really simple tips that would help you be a confident employee and a caring parent.
1.   Have a School Setup
As the lock down is extended for the unidentified time, your ward is surely getting work and classes via Google or Zoom. Set up a space for them so that they can keep all their essentials at one place. Your child needs to have this habit of being seated until the class to maintain the little discipline that is developed in regular classes.
One Tip Here: Let your child have his own space. He needs to feel at ease and unmonitored when attending the classes. This would psychologically keep him calm and classes be fruitful.   
2.   Explore Educational Websites
Well, at home you have a really tough competition. Your kid would have lots of doubts and the communication with the teachers would be a little restricted. Thus, they will turn to you for the answers. And you are answering on behalf of the subject experts. Just take some time to research well and then explain it to your child. Surely, this is a tough phase where you need to manage your office, home, and other responsibilities. A little effort here would help your child learn better.
3.   Read Alouds Are Fun
In your free time, play some read alouds with your child. This would keep him engaged and also give some time off the screen. At times things get difficult for you to manage, in such cases, let your child read his favorite lesson loud. When you show interest in what he is doing, he would try and excel it. Also, kids love it when parents simply listen to their stories.
4.   Watch Something Interesting
Why not watch something informative? For example, the History channel is up with a show titled, "History at Home Lessons on various platforms. This is an interesting way to keep your kids busy and learn something new. You would also get to enhance your knowledge, and explore innovative things.
5.   Spend Time on Audio books and Podcasts
It is important to download some simple apps where you can listen to audio books. Let your child have some time out from the busy schedules and listen to their lessons instead of being on the screen all the time. A simple technique here is, more than one senses are into work, and thus, grabbing information becomes easier.
6.   Keep Your Child Busy with Activity Sheets
Get the printout of some activity sheets that would keep your kids occupied. Try to come up with solutions that would need the least time of your kid on screen. Get some printed activity sheets so that he is learning while enjoying his time. Surely, the kids are busy with the WhatsApp group and other online activities, a break from these would prove beneficial.
7.   Don't Forget Physical Activities
Since you too aren't working out much and your child too can't go to the parks and stadiums why not you team up and play some interesting games. You guys can workout together or play some games like badminton. Board games are surely an interesting way to keep your child away from the screen, but some physical activity is needed to keep the body tissues charged.
Woah! Simple This Is
Now that you have read the above tips, be confident that there are a few things that technology has given us as a gift, e-Learning technology has evolved in the past few years rapidly.  This has helped the students be more confident and more exposed to the knowledge well.
Hopefully, the article is going to help you keep your kids productively occupied and enhance their knowledge in different domains. This is a tough time but making it a good time is your responsibility. So, keep calm and think a little off-track to keep things simple and understandable.