Interesting Ways to Celebrate Raksha Bandhan with Siblings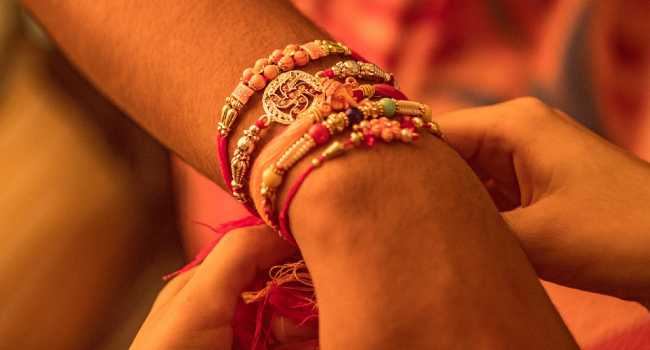 Raksha Bandhan is a religious festival celebrated in India. It is the celebration of a pious relationship of brothers and sisters. They share a sacred bond of love and care with each other. Siblings celebrate Raksha Bandhan
with new energy and enthusiasm every year. It is celebrated in the month of Shravan in a traditional way. Sisters of all ages tie a knot of rakhi or pious talisman on the wrist of their brothers which gives protection to the brother from all sorts of evilness in life. Brothers also promise to protect their sisters in different challenges of life.
Siblings have their unique plans to celebrate this famous day of the lovely relationship. They want to make this day enjoyable for each other. It is also a great time for siblings to spend the best time together. Both brother and sister choose attractive gifts to surprise each other on this memorable day. They also plan some fun activities to make this occasion special for each other.
Here are some creative ideas to enjoy the best moments of Raksha Bandhan with siblings:
Refresh the best childhood memories:
The different celebrations give you a chance for meeting with your relatives and friends. Raksha Bandhan is also a perfect occasion to come closer to your siblings. They can refresh their beautiful memories together on this day. The best childhood time was in the different activities like playing games and fight over favourite candies. You can refresh all such funny moments of your childhood and feel the touchy moments together on this day.
Plan a destination to enjoy the day:
The Raksha Bandhan is a perfect celebration on which you can spend your time with siblings. You can plan a beautiful destination with your siblings and enjoy the best moments at that place. It can be a fun destination like an amusement park and a beach in the nearby city. You can do great fun together with your loving siblings. It can be a memorable experience for everyone with brothers and sisters.
Make a collage of memories:
A photo collage is helpful to represent all the memorable moments together in a single view. You can choose the best collection of your memories with your sister and select the beautiful pictures to create a collage. You can also write some thoughtful captions with photographs to represent your bonding of love and care. Make a nice wooden photo frame using to store these beautiful memories forever with your sister. It can be a nice Raksha Bandhan gift for the sister on this day.
Do fun activities with siblings:
Childhood is the best time when everyone enjoys playing various games. Playing games with siblings give excitements and pleasure for everyone. You can also recreate those best moments on this Raksha Bandhan. Try to arrange all those indoor games like Ludo, Chess and Carrom Board, etc. to play with your siblings. It will give you some precious moments and fun together with your siblings at home.
Prepare a delicious dessert together:
Everyone learns different things from their siblings in the family. They learn some essential things like cooking and decoration at home. Raksha Bandhan is the right time to cook together with your sister in the kitchen. You can prepare a delicious dessert for the Rakhi celebration like the tempting cake online. It will give you a great time to spend some quality time together.
All of these interesting ideas of fun are helpful to celebrate this memorable day of Raksha Bandhan.