How Governments Are Standing Tall With Small Businesses During Pandemic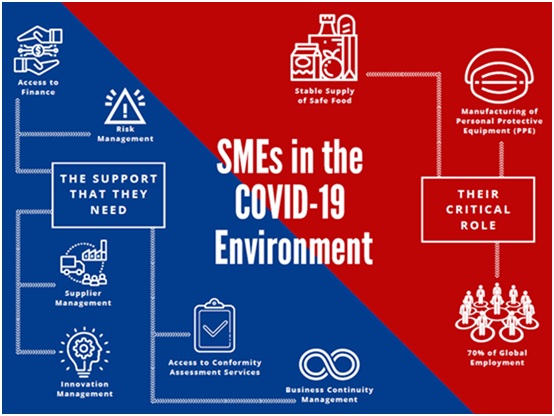 Small businesses are the heart of any economy. Bolstering employment rates and having a significant contribution to the economy, entrepreneurship, start-ups, and small businesses drive growth and are major influencers of economic conditions.
In 2018, there were around 30.2million small businesses in the United States of America itself, which represented more than 90% of all companies in the US economy. Employing more than 58.9 million people, small and medium enterprises are a significant cog in the US business sector.
In 2019, the United Kingdom had 2.82 million small businesses, which constituted 99.3% of all companies in the country. According to the Forum for Small Businesses, SMEs account for three-fifths of the country's employment and approximately half of the turnover in the UK private sector.
Small and medium-sized businesses form the backbone of the European economy, representing 99% of all businesses in the European Union.
Small businesses play an integral role in economies around the world. The onset of the Coronavirus pandemic and the ensuing global lockdown disrupted the operations of small and medium enterprises across the globe.
Here's how small businesses were devastated by COVID-19 quarantine measures.
A Look Into The Damage Wrought By COVID-19 Pandemic On Small Businesses
Small businesses such as start-ups and entrepreneurship are significant contributors to the economy. But, it is their financial fragility that puts them at substantial risk and the reason why so many businesses suffered during the quarantine.
If you are a business student, then you must have some ideas about the damage a stalled economy can inflict on MSMEs. Business can help you get a clue about the difficult challenges that small businesses face in the current economic scenario.
Several organizations conducted detailed surveys and gathered data regarding the ordeal suffered by SMEs due to COVID-19.
The Proceedings of the National Academy of Sciences of the United States of America surveyed to determine the lockdown's impact on small business outcomes and expectations. They consulted with 5800 small businesses during the peak lockdown period. The emergent themes were quite revealing. Disruption of supply chain processes and business operations caused mass layoffs & closures across the country. The financially fragile nature of most small businesses became evident as many had less than 2 weeks cash on hand to sustain themselves.
The International Trade Centre carried out its research and predicted deep economic concerns in the future. ITC surveys find that 1 out of 4 small businesses is at the risk of shutting down permanently due to the pandemic. Their findings are the results of a worldwide survey that analyzed the responses from more than 1200 businesses across 109 countries.
Loss of employment, complete closure of businesses, dwindling finances, disrupted supply chains, changing consumer behavior — small enterprises are reeling for all these detrimental effects of the quarantine.
Small businesses urgently require much-needed support from the administration and other relevant organizations to stage a turnaround. Easy availability of credit services, injection of funds, tax exemptions and strategic support is their need of the hour.
Fortunately, governments and organizations have implemented several programs across several economies that intend to deliver comprehensive support & pull SMEs out of their troubles.
So, let us now take a look at the people who stand tall with small businesses.
All Those Who Stand Tall With Small Businesses During This Crisis
Around the world, administrations have put into place support packages and implemented plans to revitalize economies.
The United Kingdom government extended a range of financial support for businesses after the outbreak took hold in the nation.

The Coronavirus Business Interruption Loan Scheme is in place and provides loans, overdrafts, and various other forms of financial support up to 5 million pounds for impacted businesses.
The Future Fund offers is also available for innovative and high-growth businesses.
750 million pounds in loans and grants are available for SMEs that focus on research &development through Innovate UK.
The Bounce Back Loan Scheme is available for SMEs that require quick access to finances during the outbreak. The value of loans under this scheme range from 2000 to 50000 pounds.
The Small Business Grant Fund and the Retail, Hospitality and Leisure Grant Fund is in place to provide substantial cash grants to micro, small and medium businesses.
For businesses who are not eligible for any of the above, the UK administration has the Discretionary Grants Fund in place, where one can receive funding up to 25000 pounds for their business.
The UK Government's National Business Support Helpline provides businesses with national information, guidance and essential support. A call back service connects any business with a team of Business Support Advisors with up to 60 minutes of free telephone support.
With tax reliefs, training programs, investments and more, the United Kingdom truly stands tall with all small businesses in the country.
In Africa, the African Import-Export Bank has tied up with the International Trade Centre to help businesses of all size cope with the COVID-19 crisis. Training programs arranged by the Afreximbank and ITC are providing business owners with the knowledge & skills to push through these challenging times. The authorities aim to work with governments to provide free trade areas and open up a market of 1.2 billion people.
The International Trade Centre has put forth recommendations for businesses, business support organizations and governments to tackle this crisis. Through a 15 point action plan, the global organization is extending its support to business across economies. 
Under the auspices of the US Government, the US Small Business Administration department offers numerous Coronavirus funding options to re-invigorate struggling SMEs.
To tackle overwhelming socio-economic disruptions, the President of the United States, Mr Donald Trump signed into being the CARES Act, a bill containing emergency relief resources and contingency planning for any American enterprise.
The SBA resumed accepting new Economic Injury Disaster Loans for all eligible small businesses, private non-profits and the US agricultural businesses. Moreover, the administration is providing small business owners with a plethora of guidance materials, access to federal resources and access to capital.
Here's a brief compilation of the available pay packages.
The 7(a) program offers colossal loan amounts of up to $5000000 and comes as an all-inclusive loan program for eligible small business across the US and its territories.
The Express loan program offers loans for up to $750000 for around seven years.
Community Advantage allows lenders to aid small businesses with a maximum loan of $250000.
504 loan program offers economic development amongst small businesses and fosters job retention.
Microloan programs extend support by offering MSMEs loans through non-profit lenders.
The SBA also offers export loans to help applicable small businesses conduct sales through exports.
Small businesses relying on contracts have access to SBA's Federal Contracting Guidance Programs for Small Businesses Impacted by Covid-19.

The United States Government's CARES Act has special provisions for offering specific guidance to small businesses. The Paycheck Protection Programis offering necessary resources to small businesses to maintain their payroll, hire back laid-off employees and cover all applicable overhead.
In conjunction with the Small Business Administration, the US Department of the Treasury is offering funds to pay small businesses up to 8 weeks of payroll costs with benefits.  $659 billion have been authorized by the administration to aid the MSMEs and kick-start the US economy.
Governments and organizations around the globe are standing tall with small businesses and extending full support in the wake of this crisis. MSMEs are the heart of any economy, and it is heartening to watch administrations extend comprehensive support to help them recover from the pandemic's devastating effect. 
With that,we come to the end of this write-up. Let's hope this blog was informative enough for you. Use it as an easily accessible repository of information for your economics or business management assignment writing.
Always perform considerable amounts of research and gather accurate, relevant data to craft a business management assignment on a current crisis. And, it is best to avail assignment writing help from professional business management assignment writers in case of any significant struggles. All the best!
Author-Bio: Robert Smith is a digital educator, and academic counsellor working on behalf of a reputable firm in Australia, United States. Apart from that,he is also a prolific academic writer and offers excellent business management assignment help to pupils, only at MyAssignmenthelp.com.