How To Turn Your Phone Into A Studio Mic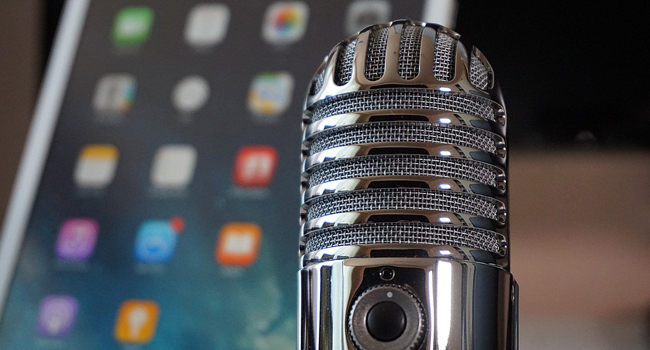 The world is now filled with countless, amazingly talented people, having creative notions. A world where Youtuber's are more famous than celebrities. A world comprising numerous unrecognized singers and musicians.
Amidst that, are you a person who loves doing vlogs, who adores singing and is struggling to upload this talent of yours to the world with low-quality videos or audios? Then, this article is for you!
There are plenty of ways on how you can turn your phone into a Studio Mic. Amazed, right? For some amazing info regarding the best microphone apps, you can check here. Some of the apps are freely available on your play store or App store, where you can record high-quality audios giving a studio mic effect. Moreover, there are few magnificent devices too.
MicroPhone
MicroPhone is an app available on both the app store and google play store, completely free of cost. The sole circumstance where you need to pay is if you want to remove those vexatious ads. Other than that, it's free and effortless to use.
To use this app as your studio mic, you first need to connect to your Bluetooth speaker and pair it with your device. Using the speaker helps you to get high-quality audio. After that, you need to open your MicroPhone app, sync with your device after turning on the power button, which is in the middle.
This operates excellently without any echos or disturbing rackets. If you want more quality than this, you can connect the auxiliary cable to your device even though it works roughly the same.
MegaPhone
MegaPhone is an app for iPhone users that is accessible on the app store. It is one of the best apps where you can get studio effect audios without any hassles. However, this app's problem is that you can't connect to Bluetooth directly as you should upgrade it to megaphone pro by paying a few bucks.
WO Mic
WO Mic is an app introduced for android users. Even though you have to follow a few steps, this app's functioning with your phone is pretty simple.
First, you need to connect the phone to your computer or laptop with a USB cable to record your vocals. After installing the app on your device, go to the settings, scroll down, and check if the option 'Find Developer' has appeared. If not, click on the option 'About device' from settings, and you may see an option name 'Build Number' under that. Tap on it several times, and the option 'Find developers' will appear in your settings.
Now, turn on the Find developers option, click 'OK' for the pop-up message regarding permission, scroll down, and you may see the option, 'USB Debugging.'
The procedure for internal settings for the app installed for you to record is now ready. Now, you have to click on the installed app, WO Mic, click on 'settings,' and under that, you may see 'Transport.' Select on the option USB, as it provides a high-quality voice other than Bluetooth. Now connect it with your computer, and you are ready to experience the studio effect mic with your phone.
Crowd Mics
Crowd Mics is another commonly used app for recording audios from your phone. Crowd Mics is an app that transforms smartphones and tablets into microphones so the audios can be heard through the room's sound, creating a studio pitch. This app works via WiFi or Bluetooth receiver. It is available on Apple Store and Google Play Store.
AudioWow
If you are tired of using apps connected to Bluetooth speakers, then AudioWow is your next best choice to record audios from your phone with studio pitch quality.
The AudioWow is an external sound-card that transmutes your smartphone into a professional studio, exclusively for you to record audios. Even if it is recording songs, podcasts, or even deciphering recordings, you can experience it with the best racket. The AudioWow is a device that is no bigger than an AirPods case, so it is easy to handle. It manages to bring a proficient advantage to your recording obligations.
However, you need to spend a little money from your pocket to grab this as it's not a free device and anything that has high quality, which benefits us would not be free, right.?
MixerFace
One of the trending, award-winning products for audio recording and playback. A peerless combination of Mobile Mixer, Recorder, and USB Audio Interface. It's a device developed by Centrance and available to purchase all over the world. Undoubtedly, the stablest and extraordinary things cost a few bucks, right?
If you come to know about this device's features, spending a few bucks for your benefit won't despair you. Instead, you would be amazed by the functionalities it provides and would be grateful for owning them.
It is Handheld and simple to operate, MixerFace is surpassing for podcasting, video blogging, streaming, field recording, and other mobile audio uses. You can even add an SD card to Mixerface, has buttons to control the channels, tone, rackets, and much more.
You'll never regret buying this, as they say, 'Your smartphone is an amazing audio production tool.' There are plenty of apps that allow you to edit audios, add few effects to your audios, and produce a new voice.
But the question is, are you getting the best and high-quality audio in your phone from these apps? If your answer is a no, buy Mixerface, keep on your cozy table, connect to your phone, open your favorite app where you sing songs, or play background music and Tada! The perfect studio record audios are ready.
MixerFace can be connected and recorded in Android, iOS, Windows, Mac, and practically any device you have input compound handles. One of the additional peculiarities which impersonate a vital role in this device is the A-to-D converter. This is the recording feature that records your audio in studio quality.
And, you know what's more amazing? Some of the popular and legendary Musicians use MixerFace to tape-record their album songs. Topmost Voice-over artists use it to record on-air scenes and promos. Even famous radio jockey's use MixerFace while broadcasting their special guests. These many people rely on Mixerface, and now spending a few bucks is not a predicament, right?
Conclusion
From the above-listed apps and devices, it is clear that turning our smartphones to studio mic is more than easy and possible. So, you talented people, what are you waiting for? Use or grab these to explore your talents and achieve prosperity.